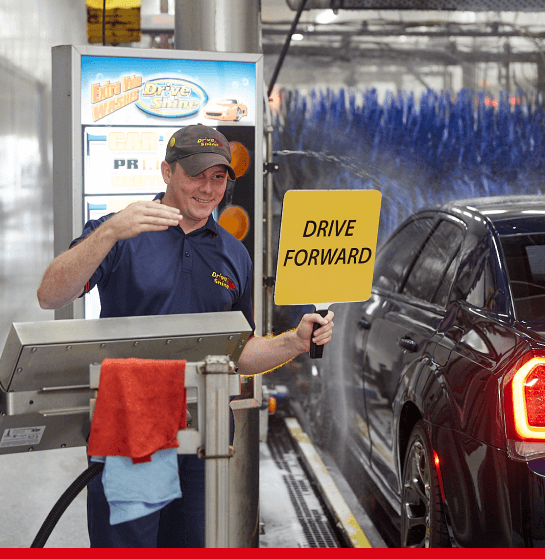 Wash Sender
If you love structure, precision, and accuracy in your work and thrive in steady environments that allow you to deliver deliberate and efficient results, apply to be a Drive & Shine Wash Sender! In this position, you will guide vehicles onto our conveyor systems and inspect vehicles for washability and safety, all while welcoming our customers with friendliness and a smile. Exceptional listening skills, great situational awareness, physical dexterity and endurance, and the ability to work repetitively outdoors in all weather conditions are required.
APPLY NOW
Wash Advisor
If you're looking for a fast-paced job that gives you ample opportunity to use your excellent interpersonal skills and advising abilities, then apply to be a Drive & Shine Wash Advisor! In this position, you will maintain relationships with current customers and educate new ones about the advantages of becoming long-term users of our services. You will be an ambassador of our company, becoming a trusted face to our customers as you support them and educate them on the services available, the benefits of those services, and opportunities to join our exclusive VIP program. You will be rewarded for your performance if you meet or exceed targets.
APPLY NOW
Lube technician
importance of maintaining a vehicle to maximize performance and longevity? Do you love taking things apart and putting them back together? Then Drive & Shine is looking for you to join our team of Lube Technicians. No experience is required, as we have an extensive training program and will teach you everything you need to know. As a member of our team, you will work in a collaborative, team-oriented environment, seeing some of the finest vehicles on the road and learning from the best how to service every vehicle entrusted to your care.
APPLY NOW
DETAIL
Do you love working with people and leading alongside? Are you driven by a desire to help others be better versions of themselves and make an impact? If so, then apply to be our Drive & shine Lube Manager. In this role you will be accountable for building, training, leading, and motivating a high-performing team to achieve forecasted goals by delivering a "WOW" experience to every customer. You will help create, implement, and ensure processes are being followed for all aspects of the business, with the freedom to independently create systems and solve issues.
APPLY NOW
Your career starts here.
The key to our success is our smiling and happy crew. They make us who we are so we only hire the best!